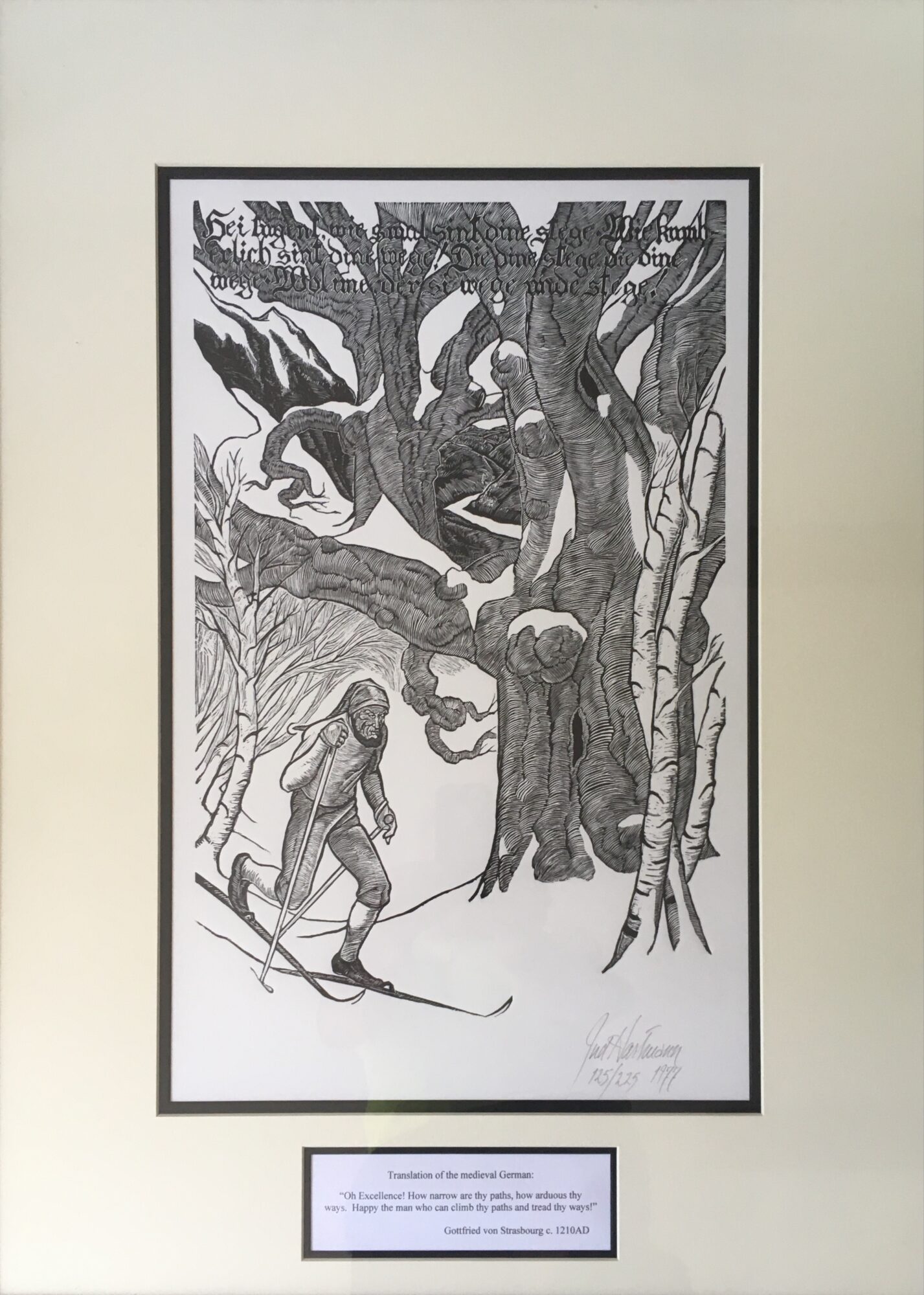 This is a signed, numbered limited edition woodblock engraving inspired by the 65 kilometers Vermont ski marathon which Jud Hartmann competed in 1977. At the time this was the longest Nordic ski marathon in the country.
Long thought to have been sold out, we recently discovered a few copies that are now available for sale at $175 (unframed) which includes shipping. Framed dimensions: 30″x 23″.
"The first time I competed in The Vermont Ski Marathon was 1977 (subsequently, as well in 1978 and 1979*). At 65 kilometers [40.4 miles], it was reputed to be the longest cross country ski marathon in the country at the time and the average number of skiers was between 1000-1200. It was a point to point race down the spine of the Green Mountains with extremely challenging terrain, a grueling test of endurance. I was 29 years old when I began that race in 1977 and by the time I finished, I'm sure I looked a lot like the fellow I depicted in the engraving! Upon crossing the finish line this Medieval German quatrain popped into my head and so the genesis of the wood block engraving of combining the two, Gottfried and Nordic skiing."
Jud Hartmann, 2021
A translation for the German text at the top of the engraving is printed below the print and reads:
Translation of the medieval German [top of the engraving]:
"Oh Excellence! How narrow are thy paths, how arduous thy
ways. Happy the man who can climb thy paths and tread thy ways"
Gottfried von Stasbourg c. 1210AD
*In 1979 the race was held despite the fact that the temperature at the start was -12º Fahrenheit and at the finish -30º (actual temperature, not wind chill)!