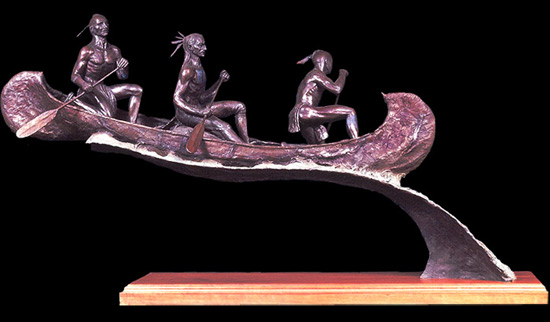 Bronze edition: 7 | Length: 43″
Nemesis of the New England frontier
The Caughnawaga Mohawk, along with the Abenaki of St. Francis, were the nemesis of the New England frontier during the long struggle between France and England for colonial dominance (1689-1763).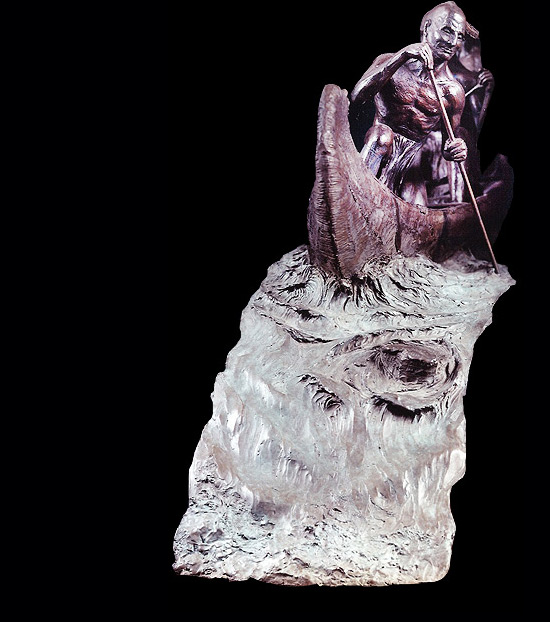 Unlike their primarily pro-English brethren of the Iroquois League, these Mohawks were converted by Jesuit missionaries and persuaded to remove to the mission village of Caughnawaga, (Mohawk word for "at the rapids") established near Montreal in 1666. The community survives to this day and is known to produce the finest high steel workers in North America.
Among their military successes in the 17th and 18th centuries were the taking of Schenectady, N.Y., (1690), and Deerfield, Mass., (1704).
The Legend of the Bell of St. Regis
A fascinating legend survives which might give a possible reason for Caughnawaga involvement in the Deerfield raid of 1704. According to legend, the Caughnawaga were persuaded to commission the casting of the bronze bell in Paris for their church. This being done about 1702, the ship carrying the bell from France was captured by a British ship and towed into Boston Harbor where all the contents were sold at auction. Deerfield unwittingly purchased the bell for the tower of their meetinghouse. When word of this reached Montreal, rescuing the bell from the heretic Puritans proved a powerful inducement to the Catholic Caughnawaga with dire consequences for Deerfield.